Maple Wood Horse Racing Game With Dice
Hit the Trifecta with this Across The Board Maple Wood Horse Racing Game With Dice!
Bring all the excitement of the track to your home and gallop into the winner's circle with the handcrafted maple wood horse racing game from Across The Board.  Race against other jockeys down the homestretch and cross the finish line first.
This beautiful horse racing game includes playing cards, dice, and pegged horses to compete with.  The handcrafted horse racing game board is made in Missouri and designed to bring families or friends together a game night with the ponies.  Just buy your Thoroughbred at the auction using a deck of playing cards and your off to the races.
Where to Buy the Across The Board Horse Racing Game With Dice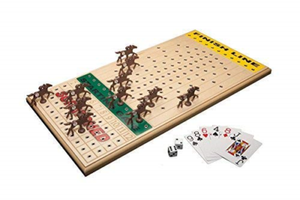 Didn't find the right price? Set price alert below
Set Alert for Product: Wooden Tabletop Horseracing Game - $75.00