Orcam Read Smart AI Reading Assitant When Your Glasses Fail
↑ Hot or Not↓ Your Vote Counts
Orcam Read Assists Anyone To Read Anything, Anytime, Anywhere!
The Orcam Read smart artificial intelligence reading assistant improves your work or study productivity by resolving an exponential number of reading difficulties.
Those with mild low vision, reading fatigue, reading challenges, including dyslexia, and bookworms who enjoy or are compelled to read a lot can all benefit from using smart reader.
Discover incredible reading abilities with the first smart camera in the world that can fluently read the text for you, whether it is printed in a book or presented on a digital screen.
Read the morning paper, any book, and even everything on your computer or smartphone screen.
Without the need for an internet connection, it can be used anywhere, even in dim lighting.
The Orcam reading device is simple to use at home, at the office, or while traveling to read any type of printed or digital text.
How Orcam Reader Works
OrCam captures entire pages, unlike all other gadgets that require you to scan each word individually.
To activate the reader, simply say "Hey Orcam!" followed by the provided voice commands.
You can select where to start reading a full page or capture a specific block of text using two simple laser guide methods.
Using smart reading technology, ask for the text that interests you. Choose from the options of "Read the headlines," "Read amounts," or "Start from."
Not the voice command type?  Simply press the button on the top to activate an accurate laser light to tell Orcam where to start reading from.
Any kind of text is quickly transformed into audio for clear delivery using the gadget's tiny speaker or a Bluetooth device that is connected.
Additional buttons allow full control of volume, power, and an LED light for low light conditions.
The Orcam reader is a groundbreaking AI reader that instantly captures entire pages of text and is instant, intuitive, and easy to use without the need for an internet connection.
Where to Buy Orcam Read Smart AI Reading Assistant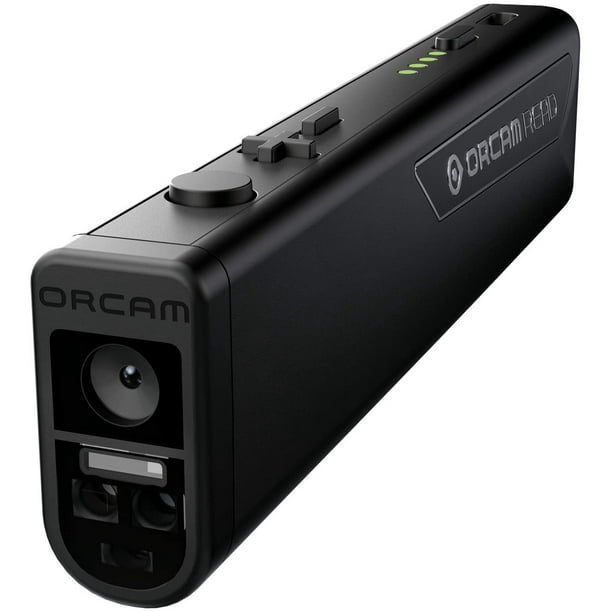 OrCam Read Smart AI Reading Assistant
We are sorry that this post was as useful for you as we would like!
Let us improve this post!
Tell us, how we can improve this post?