The HyperCube Is An Infinity Lamp Of Transforming Hyperspace Light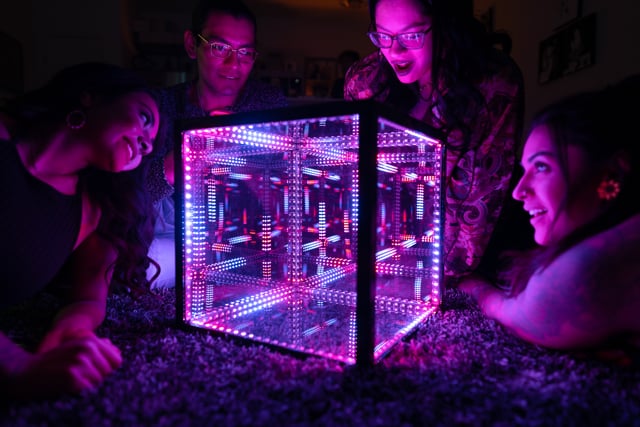 ↑ Hot or Not↓ Your Vote Counts
The HyperCube Encapsulates a Near Infinite Amount of Dancing Lights in a Personal Portal
The HyperCube is an ultra psychedelic art cube that transforms any room into a hyperspace wormhole.  In other words, it is like a lava lamp on some serious steroids.
The star-striking cubes are controlled by the free app, compatible with iOS and Android, with over 95 color patterns displayed in three modes.
Using the Hypercube app, you control the brightness, speed, and symmetry, customizing the HyperCube to your favorite colors and modes.
Sound reactive mode brings life into the hyperspace light and your party by transforming musical frequencies into light patterns responding to the beat.
When you start your music, the embedded microphone will sense the sound and send the HyperCube LED lights to move to the music.
Kaleidoscope mode liberates the Hypercube revealing its maximum luminosity of 16 million colors, a wide variety of animations and dynamic color palettes, as well as, shifting symmetries.
Meditative mode calms and soothes as the tranquilizing pulse and soft glow make for a relaxing mood light or bedside night lighting.
LED lights optimize the endless illusion by reflecting off of the Hypercube mirrors to provide a seemingly infinite depth.
Whether you're looking for an experience in a starship hyperdrive, radical entertainment decor, or a sleep-inducing bedside night light, this captivating light art will be your tabletop portal.
Features:
Six models 8″, 10″, 12″, 15″, 18″ and 24″ cubes
95 unique custom-coded patterns, and 3 modes
Randomly generated color palettes shift every 10s (adjustable)
LEDs: bright and color-saturated addressable LEDs, rated to last for 50,000+ hours
Windows: scratch-proof, shatter-proof, lightweight, optical-grade acrylic
Frame: sleek, high-durability PVC
Low power draw: average 6W / 12W for HC10 / HC15
5V power supply included, with US outlet plug
2.4 GHz WiFi connectivity for mobile app
1 year warranty
Where to Buy the HyperCube Hyperspace Light
Shop Online
We are sorry that this post was as useful for you as we would like!
Let us improve this post!
Tell us, how we can improve this post?