Ultra Realistic Cat Backpack With Posable Arms & Legs
↑ Hot or Not↓ Your Vote Counts
If You are a Cat Lover with a Slightly Twisted Sense of Humor, Then These Cute & Furry Realistic Cat Backpacks Are For You!
The viral (not feral) realistic cat backpacks have soared across the internet through funny cat videos and adorable photos.
But, they are not done soaring, the life-like cat bags are flying off the shelves into the hands of cat lovers that just can't resist.
Each true-to-life cat backpack looks like a real-life cat, even more so, when you pose the bendable arms and legs.
Pose your life-like cat bag with the feline waving or carrying a goldfish.  You can even use the arms and legs to hold and carry extra gear.
Inside there is plenty of storage space secured by a hidden zipper on the cat's back.
The hidden zipper adds to the reality of the cat's appearance and no one can tell at first glance that it is just a backpack.
The realistic cat backpack is worn with straps that loop through 3 rings on the faux cat.
You can loosen or tighten the straps to hold the cat wherever you like.
These ultra-realistic cat backpacks are lightweight and measure approximately 17 inches long.  You can find them exclusively on Apollo Box's official website below.
Where to Buy the Ultra Realistic Cat Backpack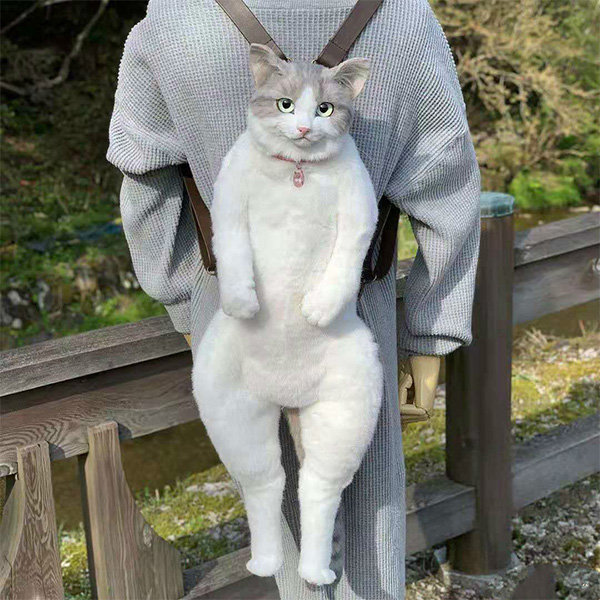 TheApolloBox.com
Last update was on: February 18, 2023 16:23
We are sorry that this post was as useful for you as we would like!
Let us improve this post!
Tell us, how we can improve this post?